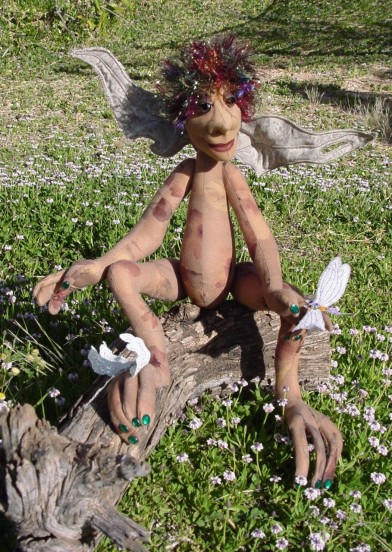 Bombal is my version of Australian designer Lynne Butcher's Gumnut Elf. His body is made from a printed suede cloth and embellished with metallic gel pens, his gumnut leaf wings are silk, his hair is a glitzy yarn, and his nails are plastic jewels. The dragonflies were embroidered on my sewing machine using water soluble laundry bags. He's sitting on a mesquite log enjoying the sunshine in my backyard.
Another Lynne Butcher pattern, Sahara. My version, Cynda, was the first doll I've ever entered in a competition (The Royal Canberra Doll Show, Canberra, Australia) and she won first place! Her costume and jewelry were all designed and made by me. I had such fun shopping for the fabric for this doll's costume!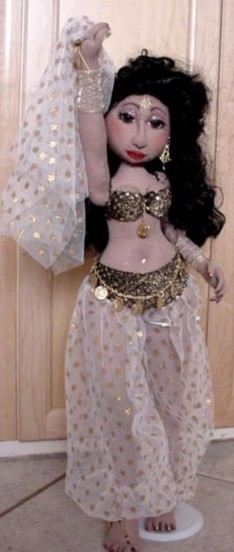 More Lynne Butcher. This one is Lawrence the Lovesick Pirate (Lynne calls him Spud). He has "real" hair mustache and goatee. I haven't decided yet if I want to put hair on his head. Lawrence is dressed in his finest outfit, carrying a bouquet of flowers and a bottle of champagne to his lady love. I just laugh each time I see the back view on this guy!