Glyndwr, a Forest Wizard, is my own design and was created for a swap - he now calls Tasmania, Australia home. His beard is crocheted on nylon thread and consists of beads, buttons, trinkets, and sequins. This great idea is from a wonderful pattern by U.S. designer Barb Owen called "Trinkets and Treasures Santa."

Thanks to the help of an extremely talented Australian designer, Pearl Red Moon, I was able to make the dolls shoes removable. It was my first attempt at using paperclay but it won't be my last!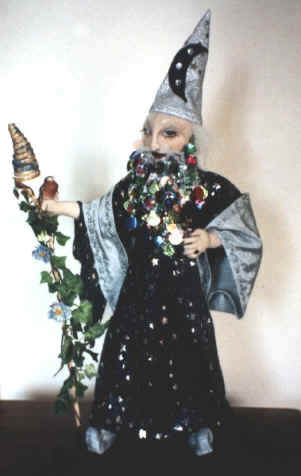 Glyndwr's shoes are made of paperclay and enable him to stand without aid.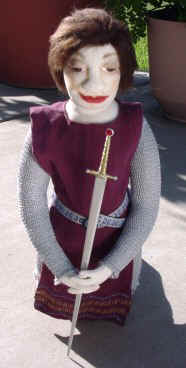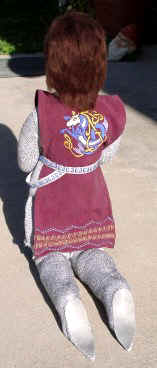 Elethon's sword was crafted by my husband from a piece of aluminum. It has gold metallic thread on the hilt and "ruby's" set into the top. I scanned and digitized the Celtic design on his tunic then embroidered it on my sewing machine.
Elethon was created for a "no picture/no instructions" challenge. The pattern was generously offered by "global" designer Ann Marie Brombal. Ann Marie is Canadian by birth but lived in Australia for many years and now calls the USA home.
Be sure to check out the other fabulous creations made from this pattern by many talented doll makers around the world. (See the Friends Of Cloth Dolls web site for the link.) This was the first doll I tried using a felting needle to attach hair with - it works great!
I made Sequona about 25 years ago from a pattern in a crafts magazine (it's been so long I don't remember which one). She's made from felt - completely hand sewn - and is embellished with yarn, embroidery and old jewelry.

I've lent or lost the magazine that had this pattern in it. If anyone knows where I can get a copy of the pattern, please email me because I would love to make another one.
I love mystical, magical dolls!